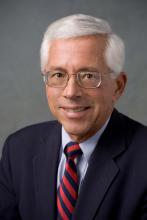 Director of the Enterprise Systems Center, Professor of Industrial and Systems Engineering
Dr. Zimmers works extensively with companies to identify critical new areas for research and provide experiential learning opportunities for students. He served as Site Director of the National Science Foundation's Center for Engineering Logistics and Distribution (CELDi) at Lehigh University (2005-2010). He supervises the senior capstone course, which is a requirement for students graduating with a BS in either Industrial Engineering or Information and Systems Engineering. He also headed the team that created the leadership development course, which was a finalist in the Institute of Industrial Engineers' Innovations in the Curriculum award competition in 2009. He has served as principal investigator on more than 200 research and technology transfer projects with more than 400 industry partners. He is a Fellow of both the Institute of Industrial Engineers and the Society of Manufacturing Engineers.
Professor Zimmers has responsibility for the efforts to create an innovative curriculum, in partnership with the SAS Institute, to prepare students to become successful practitioners in the Analytics areas. He is also working with a team to finalize the creation of the Enterprise Systems Center Analytics Laboratory. When fully operational, this will be combined with the capabilities which are already in place to facilitate technology enabled small group team meetings with industry partners and class sized connectivity with industry through the ESC Collaboratory. He coauthored a book with Prof. Mikell Groover titled, "CAD/CAM: Computer Aided Design and Manufacturing". He was awarded the Robinson Award, Lehigh University, for outstanding service to the university community. He was also awarded the 2011 Lindback Award for Distinguished Teaching. This recognized his commitment to innovative teaching and helping his students to practice critical thinking, to develop analytical skills, and to become effective practitioners through experiential learning.